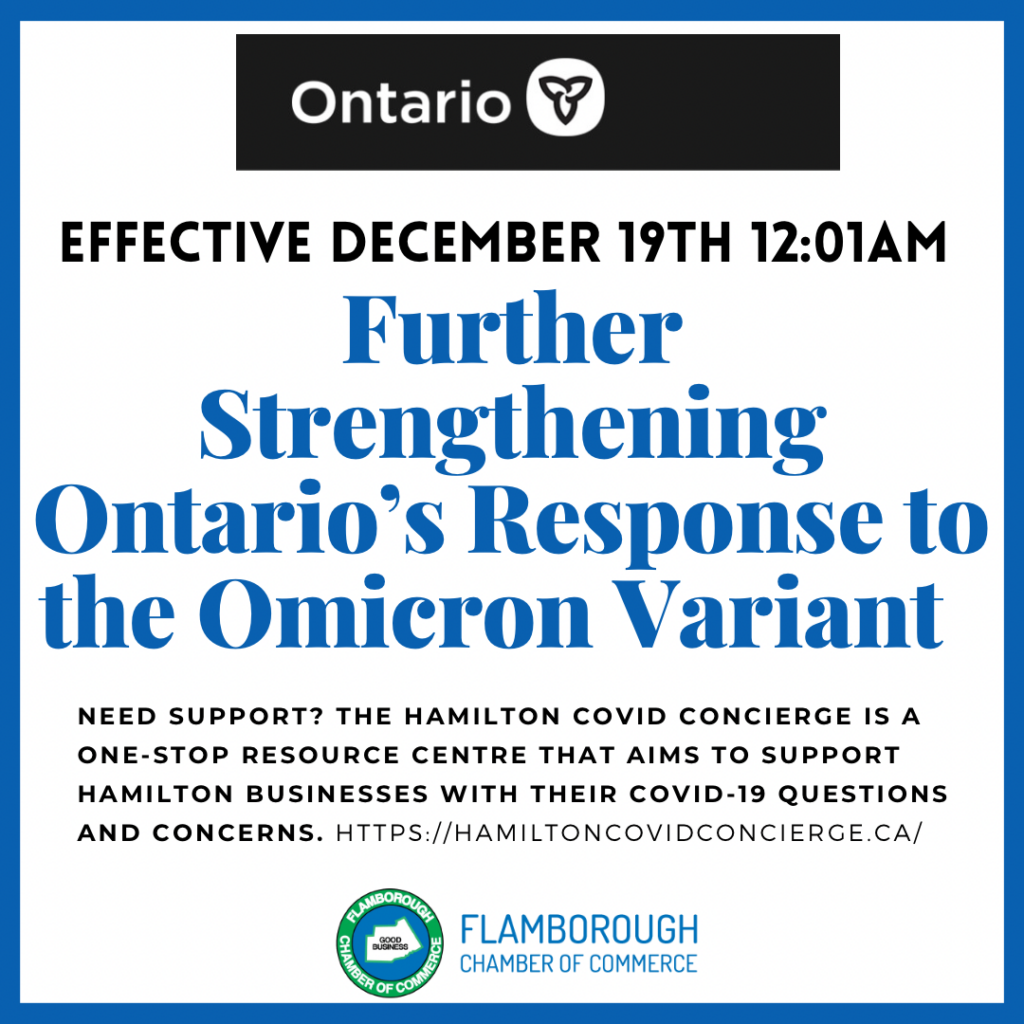 Ontario Further Strengthening Response to Omicron
These restrictions will come into effect on 12:01 a.m. on Sunday, December 19, 2021.
In response to the rapidly-spreading and highly transmissible Omicron variant, our government, in consultation with the Chief Medical Officer of Health, is applying additional public health and workplace measures, including capacity and social gathering limits. These measures will help curb transmission and continue to safeguard Ontario's hospitals and ICU capacity as the province continues to rapidly accelerate its booster dose rollout.
To further strengthen its response to Omicron and reduce opportunities for close contact as the province gets as many vaccines into arms as possible, Ontario is introducing a 50 per cent capacity limit in the following indoor public settings:
Restaurants, bars and other food or drink establishments and strip clubs;
Personal care services;
Personal physical fitness trainers;
Retailers (including grocery stores and pharmacies);
Shopping malls;
Non-spectator areas of facilities used for sports and recreational fitness activities (e.g. gyms);
Indoor recreational amenities;
Indoor clubhouses at outdoor recreational amenities;
Tour and guide services; and
Photography studios and services; and marinas and boating clubs.
To further reduce the spread of COVID-19 and the Omicron variant, additional protective measures are also being applied:
The number of patrons permitted to sit at a table will be limited to 10 people and patrons will be required to remain seated in restaurants, bars and other food or drink establishments; meeting and event spaces; and strip clubs.
Bars and restaurants, meeting and event spaces and strip clubs will be required to close by 11 p.m. Take out and delivery will be permitted beyond 11 p.m.
Dancing will not be allowed except for workers or performers.
Food and/or drink services will be prohibited at sporting events; concert venues, theatres and cinemas; casinos, bingo halls and other gaming establishments; and horse racing tracks, car racing tracks and other similar venues.
The sale of alcohol will be restricted after 10 p.m. and consumption of alcohol in businesses or settings after 11 p.m.
In addition, to mitigate COVID-19 transmission that can occur at informal social gatherings, the province is also reducing social gathering limits to 10 people indoors, and to 25 people outdoors.
News Release:
https://news.ontario.ca/en/release/1001366/ontario-further-strengthening-response-to-omicron
Have questions or need support?
The Hamilton COVID Concierge for Business is a one-stop resource centre and phone line that aims to support Hamilton businesses with their COVID-19 questions and concerns.
Call 905-521-3989 or visit https://hamiltoncovidconcierge.ca
For more information contact the Flamborough Chamber of Commerce (905-689-7650 or admin@flamboroughchamber.ca) and refer to our COVID-19 UPDATE and RESOURCE CENTRE for additional support.