FCC COVID-19 UPDATE and RESOURCE CENTRE
During this difficult time, for our businesses, our families and our communities at large, the FCC hopes to assist its members by providing resources and updates.  With this aim, we have provided the following updates and resources.
FCC Operations
The health, safety, and well-being of our staff, members and community are of the utmost importance to us. We have therefore made some changes to how we work until the public health risk related to COVID-19 reduces.
We have decided to opt for virtual meetings and suspend in-person activities for the time being. This means we are suspending outside visitors to our offices and we will not participate in in-person events or activities. We will continue to assess this position based on the best advice of public health officials and partners.
The Flamborough Chamber of Commerce (FCC) team is deeply committed to providing the highest levels of service to all our members and these changes only reflect how we work. Our services to our members, availability, and responsiveness remain unchanged.
We will continue to monitor and assess new developments pertaining to COVID-19 closely and work with our members, partners and all levels of government to provide support to our business.
We are all in this together
On March 17th, the Premier of Ontario announced a state of emergency, aimed at reducing the spread of COVID-19.  We urge all business to keep employees at home as much as possible, and for those types of businesses that have been ordered to close, to please do so. We must work together now to try to minimize the spread of the situation, and hopefully reduce the amount of time, financial and social impacts.  We must trust that all levels of government will react responsibly and protect those businesses and individuals directly affected by loss of business.
If you or your employees are experiencing symptoms, we call upon businesses to heed expert advice and not overwhelm our medical system. The COVID-19 self asssement tool can be used if you are experiencing symptoms. Our emergency rooms should not be used as a first response. The Ontario Ministry of Health is asking the public to first contact Telehealth Ontario or their local public health unit if individuals are experiencing symptoms.
Navigating COVID-19 Support Resources
Ontario is gradually reopening businesses, services and public spaces on a regional basis as progress is made in the fight against COVID-19.
The Ontario government announced that Hamilton can move forward into Stage 2 of reopening on Friday June 19, 2020. A detailed list of what can reopen in phase 2.
USEFUL LINKS
Government of Canada COVID-19 Updates
Government of Ontario COVID-19 Updates
City of Hamilton COVID-19 Updates
Centers for Disease Control and Prevention (US)
Johns Hopkins University COVID-19 Resource Maps
OCC COVID-19 PANDEMIC PREPAREDNESS TOOLKIT FOR ONTARIO BUSINESSES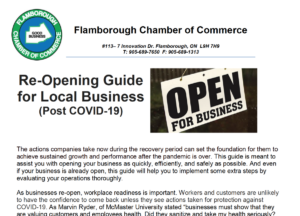 The actions companies take now during the recovery period can set the foundation for them to achieve sustained growth and performance after the pandemic is over. This guide is meant to assist you with opening your business as quickly, efficiently, and safely as possible. And even if your business is already open, this guide will…