FCC COVID-19 UPDATE and RESOURCE CENTRE
During this difficult time, for our businesses, our families and our communities at large, the FCC hopes to assist its members by providing resources and updates.  With this aim, we have provided the following updates and resources.
FCC Operations
The health, safety, and well-being of our staff, members and community are of the utmost importance to us. We have therefore made some changes to how we work until the public health risk related to COVID-19 reduces.
We have decided to opt for virtual meetings and suspend in-person activities for the time being. This means we are suspending outside visitors to our offices and we will not participate in in-person events or activities. We will continue to assess this position based on the best advice of public health officials and partners.
The Flamborough Chamber of Commerce (FCC) team is deeply committed to providing the highest levels of service to all our members and these changes only reflect how we work. Our services to our members, availability, and responsiveness remain unchanged.
We will continue to monitor and assess new developments pertaining to COVID-19 closely and work with our members, partners and all levels of government to provide support to our business.
We are all in this together
On March 17th, the Premier of Ontario announced a state of emergency, aimed at reducing the spread of COVID-19.  We urge all business to keep employees at home as much as possible, and for those types of businesses that have been ordered to close, to please do so. We must work together now to try to minimize the spread of the situation, and hopefully reduce the amount of time, financial and social impacts.  We must trust that all levels of government will react responsibly and protect those businesses and individuals directly affected by loss of business.
If you or your employees are experiencing symptoms, we call upon businesses to heed expert advice and not overwhelm our medical system. The COVID-19 self asssement tool can be used if you are experiencing symptoms. Our emergency rooms should not be used as a first response. The Ontario Ministry of Health is asking the public to first contact Telehealth Ontario or their local public health unit if individuals are experiencing symptoms.
Provincial Shutdown Effective December 26
As COVID-19 cases continue to rise across the province, the Ontario government is imposing a Provincewide Shutdown, in addition to the current shutdown we are in. The shutdown is in effect as of Saturday, December 26 at 12:01 a.m.
The Provincewide Shutdown measures include, but are not limited to:
Restricting indoor organized public events and social gatherings, except with members of the same household (the people you live with). Individuals who live alone may consider having exclusive close contact with one other household.
Prohibiting in-person shopping in most retail settings - curbside pickup and delivery can continue. Discount and big box retailers selling groceries will be limited to 25 per cent capacity for in-store shopping. Supermarkets, grocery stores and similar stores that primarily sell food, as well as pharmacies, will continue to operate at 50 per cent capacity for in-store shopping.
Restricting indoor access to shopping malls - patrons may only go to a designated indoor pickup area (by appointment only), essential retail stores that are permitted to be open (e.g. pharmacy, grocery store), or, subject to physical distancing and face covering requirements, to the food court for takeout purchases. Shopping malls may also establish outdoor designated pickup areas.
Prohibiting indoor and outdoor dining. Restaurants, bars and other food or drink establishments will be permitted to operate by take out, drive-through, and delivery only.
Navigating Covid-19 Support Resources
To learn more about federal and provincial programs set up to assist small businesses impacted by the pandemic and resulting shutdowns, please visit the following links. 
Canadian Business Resilience Network from The Canadian Chamber of Commerce 

Ontario Small Business Support Grant 
The Ontario Small Business Support grant is a $10,000 grant for all eligible businesses up to a maximum of $20,000. This is a one-time grant and each small business will be able to use the support however they wish.
Eligible small businesses include those that:
Are required to close or significantly restrict services due to the Provincewide Shutdown being imposed across the province effective 12:01 a.m. on December 26.

Have fewer than 100 employees at the enterprise level.

Have experienced a minimum of 20 per cent revenue decline in April 2020 compared to April 2019.
Property Tax & Energy Bill Rebates 
Canada Emergency Business Account (CEBA)
CEBA offers eligible businesses up to $60,000 in interest-free loans, including up to $20,000 which is forgivable if loans are re-paid prior to December 31, 2022. 

Canada Emergency Rent Subsidy (CERS) 
Under the new Lockdown Support program, organizations that are subject to a lockdown and must shut their doors or significantly restrict their activities under a public health order are eligible for an additional 25 per cent top-up, in addition to the Canada Emergency Rent Subsidy base subsidy of up to 65 per cent, until December 19, 2020. This means hard-hit businesses can receive up to 90 per cent support for rent. 
The government is proposing to extend the rate of 25 per cent for the Lockdown Support for an additional three periods, until March 13, 2021.
Regional Relief and Recovery Fund (RRRF) 
What you'll need to apply 
Business & Banking Information
You will need your business and banking information to apply, including:
- General business information (for example, Canada Revenue Agency business number)
- Banking information (for example, banking institution, account number, branch code)
Receipts for PPE
You will need to submit receipts or proof of costs purchased since March 17, 2020
- This includes: gloves, gowns, face shields, eye protection, masks, sanitizer, thermometers, physical changes, signs to inform customers, etc.
Bills and/or Invoices
To apply you will have to submit proof of costs
- Property Tax Rebates: property tax bills or costs associated with property taxes
- Energy Cost Rebates: digital copy of the first energy bill you received on or after in your region
CONTACT US!
The Flamborough Chamber of Commerce understands this continues to be an incredibly difficult time for businesses in our community, and in particular meeting the eligibility criteria for funding opportunities and qualifying for other resources. The Provincial government is heading into further budget discussions and we are hopeful that more support will be coming. We will continue to provide information as it becomes available. 

If you have any questions or require additional guidance, please do not hesitate to reach out to us. Please contact, Executive Director, Matteo Patricelli at matteo@flamboroughchamber.ca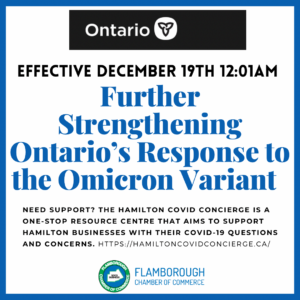 These restrictions will come into effect on 12:01 a.m. on Sunday, December 19, 2021. In response to the rapidly-spreading and highly transmissible Omicron variant, our government, in consultation with the Chief Medical Officer of Health, is applying additional public health and workplace measures, including capacity and social gathering limits. These measures will help curb transmission and continue to safeguard Ontario's hospitals and…