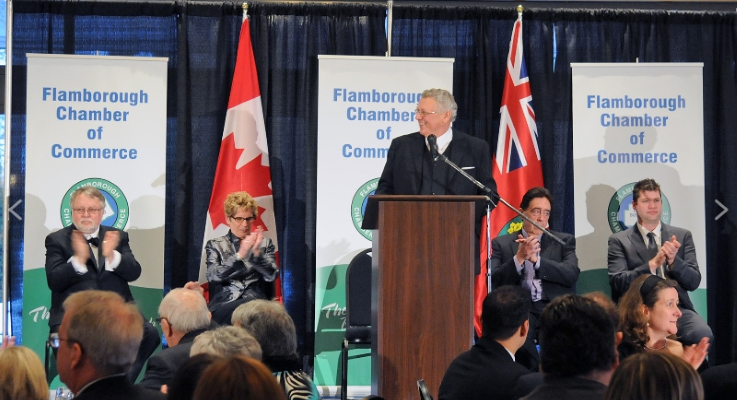 There are big changes coming to this year's Outstanding Business Achievement (OBA) awards gala.
Last Monday, the Flamborough Chamber of Commerce (FCC) videotaped profiles of each of the recipients of this year's awards.  This Monday, the FCC will be finishing these brief videos that are being professionally produced by BizClip.  In addition to the videos, CHCH reporter Nicole Martin of Carlisle – the first recipient of the FCC
Young Entrepreneur of the Year Award
– will be the celebrity emcee of the annual gala that
'recognizes and celebrates the very best in corporate excellence and community service'
in Flamborough.
During the taping, we discovered some interesting tidbits of information. For instance, we knew that Gord Forth of Gord Forth Farms and Copetown Woods Golf Course – this year's Lifetime Achievement Awardrecipient – started growing vegetables when he was 13. What we didn't know was that he actually started his agricultural career at age six when he was given two rabbits. Guess how many rabbits he had when he turned 10? You'll have to attend the OBA gala to find out.
There is a lot of room at the African Lion Safari … but there is a limit and early registration is encouraged. Furthermore, additional sponsorship support would be the cherry on top of the ice cream.