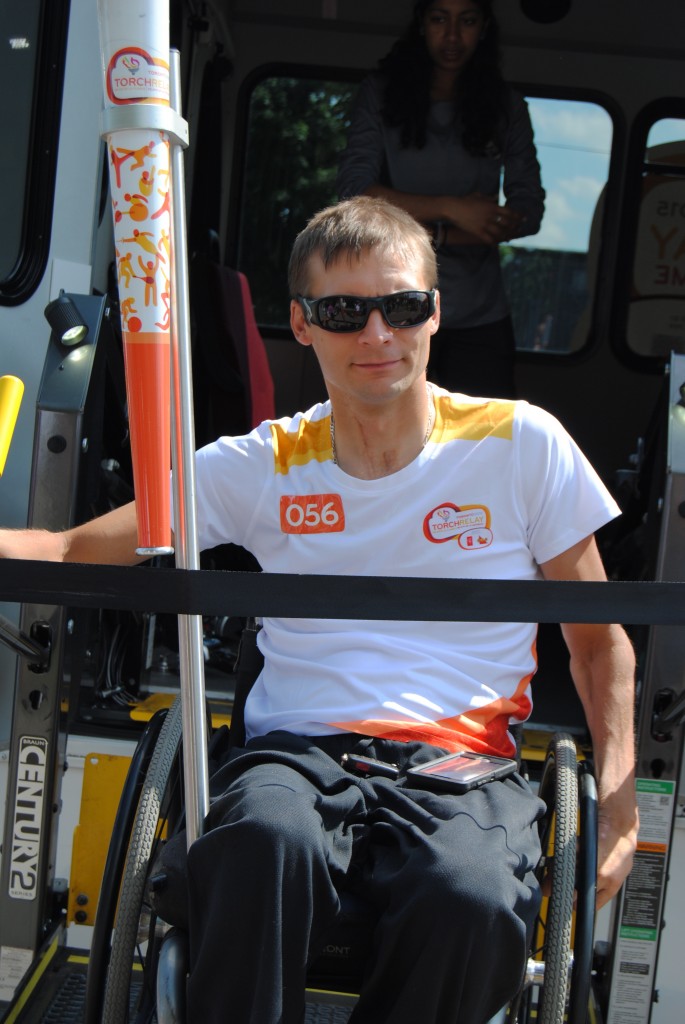 In partnership with the Ontario Lottery Corporation (OLG), the Flamborough Chamber of Commerce (FCC) selected as its representative in the Pan Am Torch Run Corporal Chris Klodt of Westover. Serving with the Canadian military in Afghanistan, Corporal Klodt was gravely wounded during combat and is now confined to a wheelchair.
In recognition of his heroism, Corporal Klodt was presented with the Town of Flamborough Award by the FCC in 2009 at its Outstanding Business Achievement (OBA) awards gala at the African Lion Safari. Ancaster-Dundas-Flamborough-Westdale MP David Sweet along with MP Peter McKay, who was then the Minister of Defence, participated in the presentation.
Cheered on by his family and the community, Chris carried the Pan Am torch on Sunday afternoon along Hatt Street and Market Street South in Dundas.
Meanwhile, our friends at the Waterdown BIA welcomed the Pan Am torchbearers at the corner of Mill Street and Highway #5 (American House). FCC President Jason Small of the Community Church served as emcee at the celebration.
For the complete album, please click HERE.