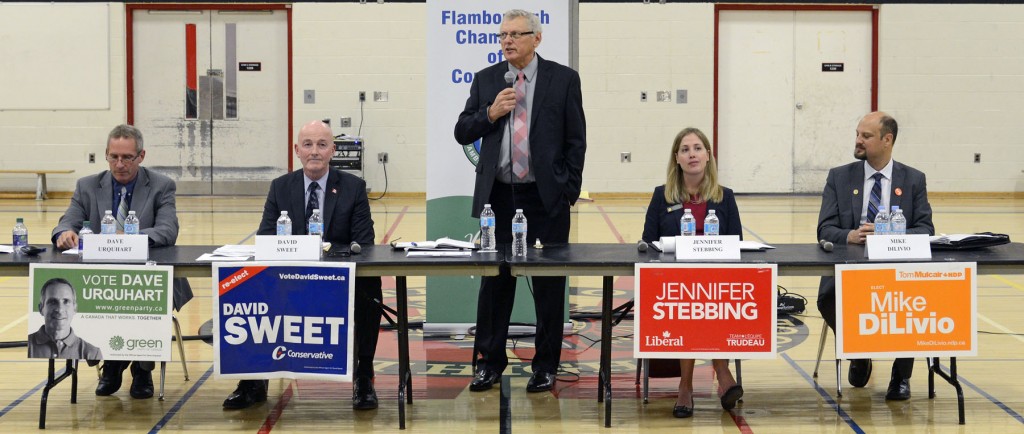 FCC HOSTS ELECTION DEBATE
A crowd estimated at 200-250 people filled the bleachers in the gym at Waterdown District High School (WDHS) last week Wednesday Oct. 7th  as the Flamborough Chamber of Commerce (FCC) continued a long tradition of organizing and hosting an Election Debate in anticipation of the October 19th federal election.
Moderated by FCC Executive Director Arend Kersten, the participating candidates were Mike DiLivio (NDP), Jennifer Stebbing (Liberal), David Sweet (Conservative) and Dave Urquhart (Green). Members of the audience were encouraged to submit written questions, which were then presented by FCC President Jason Small (Community Church). The collection of questions was co-ordinated by FCC Vice President Kyle Hampson (Miller Thomson Law) and Treasurer Craig Sampson (Weeks Home Hardware).
This was the last debate for Flamborough-Glanbrook candidates before the election – and by far the best attended. The debate was taped for later broadcast by TV Cogeco and was deliberately timed to provide extensive coverage in the Flamborough Review in the last edition before election day.
A BIG thank you goes out to all who played a role – including WDHS Vice Principal Linda Wigood, the Community Church for the sound system and photographer (and former WBIA Executive Director) Wilf Arndt.
For pictures taken at the debate, please click HERE.