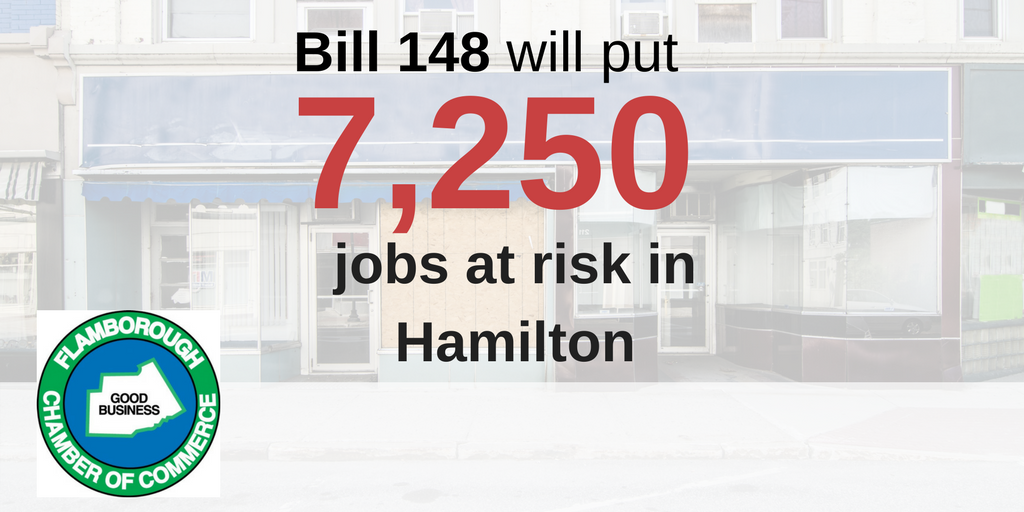 URGENT – BILL 148 SPECIAL MEETING
MPP Ted McMeekin (Ancaster-Dundas-Flamborough-Westdale) and Ward 15 Councillor Judi Partridge have accepted the invitation of the Flamborough Chamber of Commerce (FCC) to participate in a Business Round Table to discuss Bill 148.
Bill 148 proposes major changes to Ontario's labour laws including minimum wages, equal pay, vacations, scheduling and unionization. Specifically, Bill 148 proposes an increase in the minimum wage to $14 on January 1, 2018 and $15 on January 1, 2019. That represents a 32 percent increase in just over 18 months.
As a member of the Keep Ontario Working coalition, the Ontario Chamber of Commerce (OCC) argues the proposed increases are too much, too soon and will have serious negative consequences for Ontario businesses. For more information, please click HERE.
This is an opportunity for members of the FCC and the Waterdown BIA to share their thoughts with MPP McMeekin and Councillor Partridge before the Ontario Legislature resumes sittings next month. MPP McMeekin has held several powerful Cabinet positions and is currently a Parliamentary Assistant to Premier Kathleen Wynne charged with addressing the challenges of rural poverty.
With a provincial election on the horizon, MPP McMeekin was recently acclaimed as the Liberal candidate for Hamilton West-Ancaster-Dundas. At the same meeting, Councillor Partridge – the Ward 15 (East Flamborough) representative on Hamilton Council – was acclaimed as the Liberal candidate for Flamborough-Glanbrook. The former owner of the 'original' Chapters in Waterdown and mayor of Flamborough, MPP McMeekin is also a former member of the FCC Board of Directors.
The Business Round Table will be held on TUESDAY, August 29 at the Dutch Mill Country Market on Millgrove Side Road. We apologize for the short notice, but busy and conflicting schedules presented significant challenges. A light lunch will be available starting at 11:30 a.m. with the discussion commencing at 12:30 p.m. In order to properly prepare, REGISTRATION is REQUIRED. There is a fee of $20 to cover expenses. To register, please click HERE.