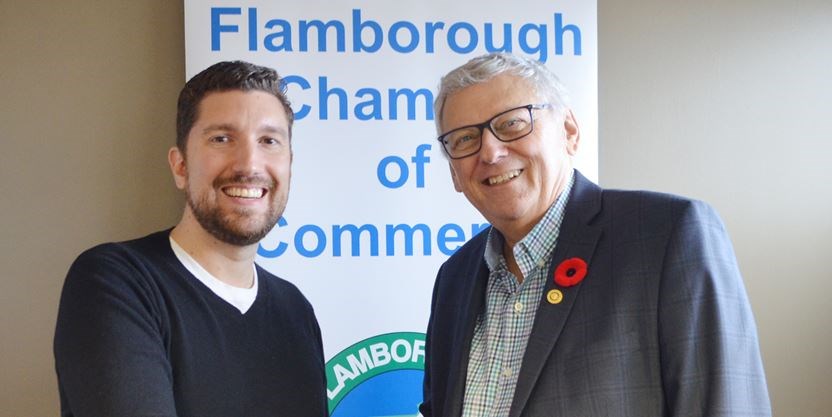 PATRICELLI NAMED FCC EXECUTIVE DIRECTOR
Published in the Flamborough Review, November 9, 2017
The Flamborough Chamber of Commerce has appointed Matteo Patricelli as its new executive director.
The 35 year-old took over the reins Nov. 1, from longtime executive director Arend Kersten, who announced his plans to step down several months ago.
Patricelli said he hopes to take the next steps from where Kersten left off.
"Arend's become quite the figure as the executive director and I'm hoping to build on his relationships and his success and focus on the new and expanding Flamborough," he said. "Look at the new businesses coming into town, young professionals … just try and improve on the groundwork that Arend has already laid."
He noted that process will include a year of getting to know the everyone. "I think relationships are really, really important," he said.
Patricelli noted Kersten will be remaining with the FCC in a consulting role, focusing on policy, advocacy and government relations from Hamilton City Hall.
"I'm really thankful for that because that will give me the leeway to really get to know everybody," he said. "I might have my opinions on what (the members) need and what the focus is, but I think it's really important as a chamber that we represent our members in the community.
"So I really want to hear their opinions."
Kersten's final day as executive director will be Dec. 31. He said it was time to pass the torch.
"I'm 71 years old, I've been here for 14 years," he said, noting that amounts to an eternity in chambers of commerce. "This is the right time."
A self-proclaimed political junkie, Kersten said his policy and advocacy role – which begins Jan. 2 – is a good fit for him.
"I will continue to cover city hall, share what's happening there and provide that to the FCC," he said. "Hopefully that will be a new and additional membership benefit that I can focus on."
Kersten, who did not take part in the search for his replacement, said he's excited about Patricelli's appointment.
"I'm looking forward to his energy, his enthusiasm," he said of his successor. "There's no doubt in my mind that he's going to take the Chamber to the next level. I'm there to help him and support him in any way that I can."
Patricelli said he was pleased to learn that Arend would be staying on in a different capacity.
"Arend and I are acquainted from my past careers," he said. "Our paths have crossed and we've gotten along well, so it's an easy transition."
The Hamilton resident is currently the part-time executive director of Volunteer Hamilton, a role he will be continuing in addition to his duties with the FCC.
Patricelli, who immigrated to Hamilton from Italy at age six, grew up on the Hamilton Mountain. He holds a political science degree from McMaster University and has experience working in management and government relations – including working for an engineering firm in North Africa and the Persian Gulf.
More recently, he has worked as a management and government relations consultant for clients in not-for-profit, law and political sectors.
Patricelli was also named one of the 40 Under Forty Business Achievement Award winners in 2013, an award recognizing Hamilton and Halton's next generation of business leaders and in 2012 was awarded a Queen Elizabeth II Diamond Jubilee Medal.
In terms of what he brings to role, Patricelli said he likes solving problems. "I like finding creative ways to solve problems and I love community building," he said. "That's my passion and that's what really attracted me to the role."
He noted that meshes well with the Chamber's mandate to build and defend the local business community and economy, which contributes to improving the quality of life in Flamborough.
"My skill set is making those connections and bringing people to the table," he said. "Working together to find solutions to better everybody."
Patricelli highlighted a couple of personal local connections: his wife Amy Gringhuis hails from Flamborough, and he has worked with Ancaster-Dundas-Flamborough-Westdale MPP Ted McMeekin as a constituency assistant.
FCC board of directors president Craig Sampson said Patricelli's experience factored into their decision.
"He certainly has a good handle on the local political scene and is familiar with many of the businesses locally," he said. "He has a lot more to learn and big shoes to fill, but we're looking forward to working with him and believe he'll make an excellent new executive director."
Sampson said there were close to 100 applicants for the role, and the board seriously considered close to 40.
"We were very fortunate – we had some excellent candidates," he said. "It was a really hard decision to make."
He said Patricelli will bring new ideas and perspective to the role.
"We're hoping he'll have some new fresh ideas that we can start," he said. "We want to become more active in contacting local businesses, finding out what they want from the Chamber and how we can help them."
Moving forward, Patricelli said it's too early to discuss the specific thrusts of what he would like to see for the Chamber. "I really want to hear the community's voice first," he said.
Patricelli noted many chamber members don't know the benefits membership affords them.
"A huge amount of members don't know that we're essentially a lobby group," he said. "So it's really going to be, for me, a tour of getting to know people, understanding what they know that they get out of the Chamber and also educating them on the things that we do that they don't know that we do."
Patricelli said he loves and believes in the impact chambers of commerce can have on the community.
"That was really, the big draw," he said. "That it is part of my community – that I know Flamborough and I'm comfortable with Flamborough."