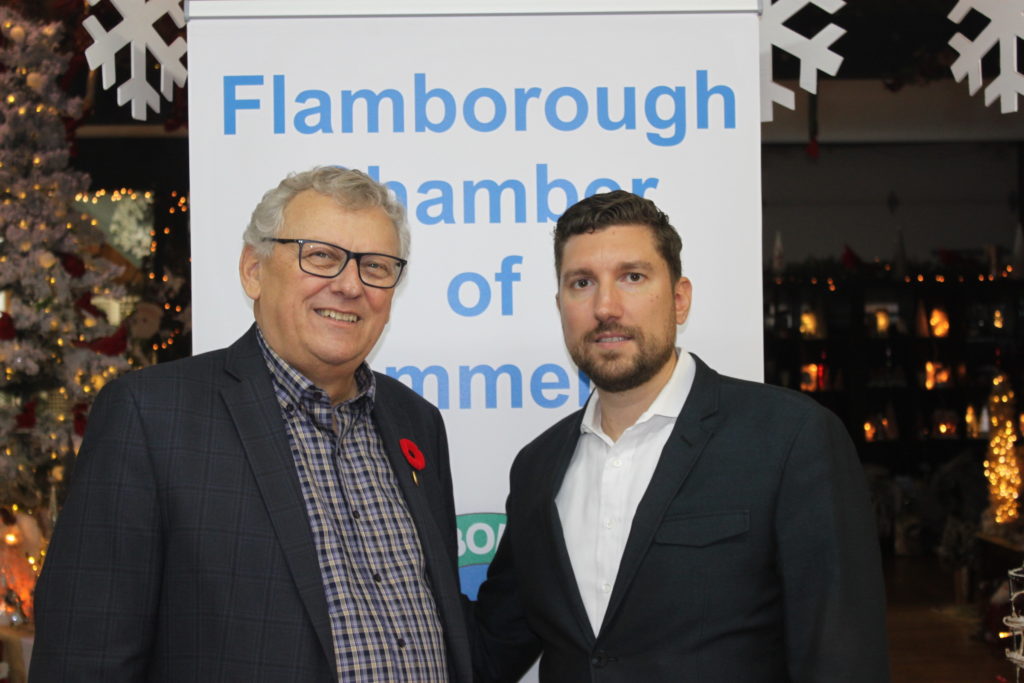 NEW FCC EXECUTIVE DIRECTOR
After an exhaustive and thorough search, the Board of Directors (BOD) is delighted to announce the appointment of Matteo Patricelli as the new Executive Director of the Flamborough Chamber of Commerce (FCC) effective November 1, 2017. Matteo will replace Arend Kersten, who informed the FCC BOD several months ago that he – after 14 years – would be retiring effective December 31, 2017. Starting January 2, 2018 Arend will continue to provide the FCC with advice in the areas of policy, advocacy and government relations, with a focus on "news and views" from Hamilton City Hall.
An immigrant to Hamilton at the age of six, Matteo holds a Bachelor of Arts Degree in Political Science (2007) from McMaster University and has worked overseas and at home on a wide variety of development programs. Matteo has been self-employed as a Management and Government Relations consultant with a wide range of clients including political entities, law firms and not-for-profit organizations. Currently the part-time Executive Director of Volunteer Hamilton, Centre for Community Engagement, Matteo has also played a vital role in helping to organize past annual Economic Summits on behalf of the Hamilton Chamber of Commerce. Matteo is familiar with Flamborough and its issues as a result of a stint as an Constituency Assistant to Ancaster-Dundas-Flamborough- Westdale MPP Ted McMeekin.
In 2012, Matteo was awarded the Queen Elizabeth II Diamond Jubilee Medal by the Governor General of Canada. The citation with the award stated: "A young man possessing an outstanding sense of community, Mr. Patricelli is actively engaged with many civic groups and in numerous activities in restoring character, life and pride in his city."
In 2013, Matteo was named as one of the recipients of the 40 Under Forty Business Achievement Award which "recognizes Hamilton and Halton's next generation of business leaders. The winners are under the age of 40 and consistently make their mark in business and in their communities."
Matteo lives with his wife Amy (Gringhuis) who grew up in Flamborough. The couple currently live in the Stinson neighbourhood in downtown Hamilton.
QUOTES
"On behalf of the Board of Directors, I am pleased to welcome Matteo as our new Executive Director. We had many exceptional applicants but it quickly became clear that the FCC would be well- served by Matteo."
President Craig Sampson, Board of Directors of the Flamborough Chamber of Commerce
"I'm lucky to be taking over such an established organization, thanks to Arend. I have big shoes to fill but I look forward to continuing the good work of encouraging good corporate citizenship, defending and promoting private enterprise, contributing toward the growth of a healthy local economy and continual improvement to the quality of life in Flamborough."
Executive Director Matteo Patricelli, Flamborough Chamber of Commerce
"I'm excited about Matteo's appointment. I'm convinced that with his experiences, enthusiasm and energy, he will take 'the little chamber that could' to the next level. I am committed to supporting him in any I way can."
Executive Director Arend Kersten, Flamborough Chamber of Commerce (Retired)