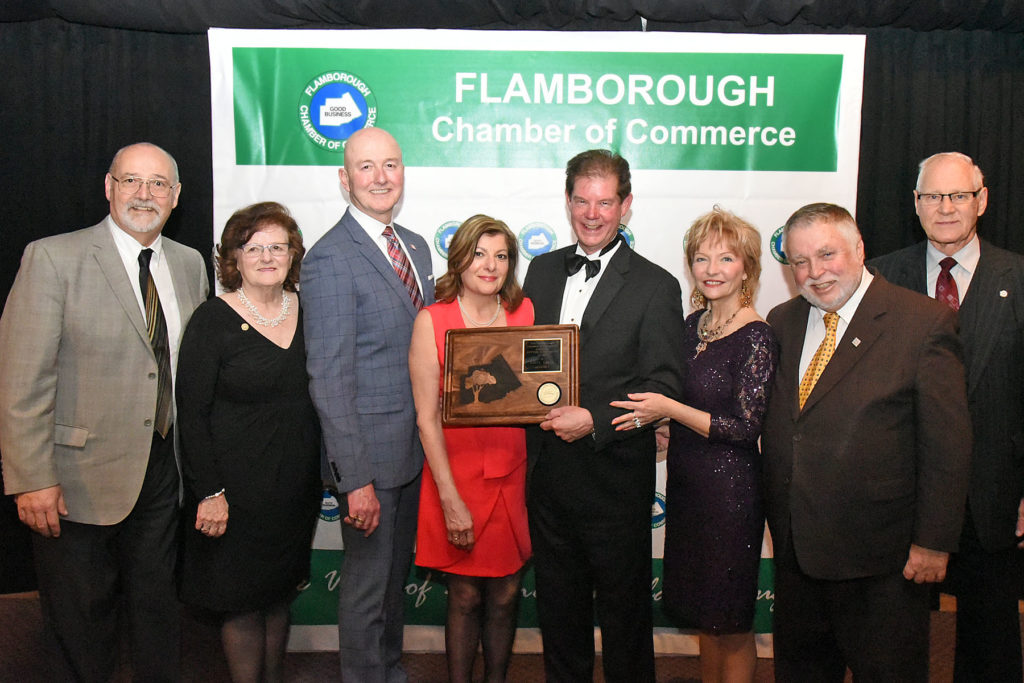 Former Flamborough Councillor Gerry Aggus will join a select group of local corporate icons and community champions when he is presented with the prestigious Lifetime Achievement Award by the Flamborough Chamber of Commerce (FCC) at the 2017 Outstanding Business Achievement (OBA) awards gala at the African Lion Safari on Friday, March 31.
A resident of Waterdown and a lawyer with Ross & McBride, Aggus has served the community in a number ways. He is a Past President of both the FCC Board of Directors and the Rotary Club of Waterdown. While on Flamborough Council, Aggus chaired the Planning and Development Committee during the pre-amalgamation era.
Aggus joins an elite group of Lifetime Achievement Award recipients including Jim Aitkin (Rankin Environmental Services), Col. Gordon Dailley (African Lion Safari), Mike Demkowich (JDJ Trailers), Domenic DiFelice (Waterdown Collision), Gord Forth (Gordon Forth Farms and Copetown Woods Golf Club), Hank Gelderman (Jan Gelderman Landscaping), Sandy Gray (Weeks Home Hardware), Bill Grisdale (Grisdale Enterprises), Jay Hughes (Jay's Auto Service), Karen Hunt (Rockton Dinner Theatre), Margaret and Charles Juravinski (Flamboro Downs), Wilf, Tom and Tim Langford (Langford's IDA Pharmacy), Archie McCoy (McCoy Foundry), Margaret and Jim Robertson (Pause Awhile Tea Room), Frank Spiridoulias (Lord Byron Steak and Seafood House), Ron Steepe (Kitching Steepe & Ludwig Funeral Home), Ernie Weeks (Weeks Home Hardware) and Jim Wilkinson (Wilkinson Heavy Precast).
At what has evolved into 'the social event of the year' in Flamborough, the OBA awards are designed to 'recognize, honour and celebrate the very best in corporate excellence and community service.' OBA awards will also be presented to a number of businesses and individuals in other categories. Returning as emcee is CHCH reporter and anchor Nicole Martin, a past recipient of the OBA's Young Entrepreneur of the Year Award. The presentations of the awards will be taped for later broadcast by TVCogeco (Burlington, Oakville and East Flamborough) and Hamilton's Cable 14 (including Ancaster, Dundas, Hamilton Mountain and Stoney Creek). And one lucky attendee will go home with a system-wide voucher from Westjet Airlines.
View all of the evenings festivities HERE