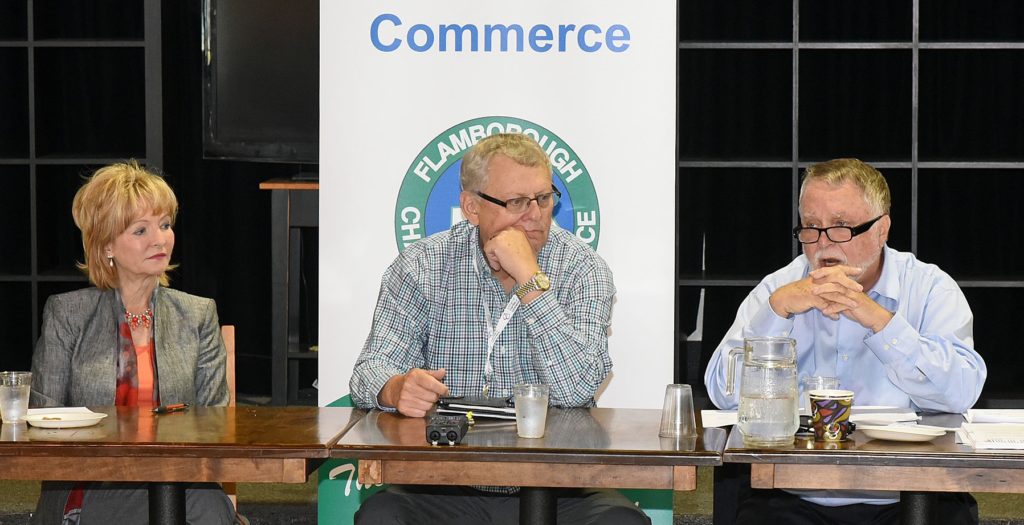 A VERY SUCCESSFUL BILL 148 ROUND TABLE
This week's Business Round Table hosted by the Flamborough Chamber of Commerce at the Dutch Mill Country Market on Bill 148 generated quite a buzz. Ancaster-Dundas-Flamborough- Westdale MPP Ted McMeekin and Ward 15 (East Flamborough) Councillor Judi Partridge had accepted the invitation to listen to the concerns of FCC and Waterdown BIA members – especially the proposal to increase the province's minimum wage to $14 an hour on January 1, 2018 and $15 an hour on January 1, 2019. With Ontario voters going to the polls early next year, MPP McMeekin (a former Flamborough mayor) has been nominated as the Liberal candidate in Hamilton West-Ancaster-Dundas while Councillor Partridge will carry the Liberal banner in Flamborough-Glanbrook.
Reports by Hamilton Community News (HERE) and the Hamilton Spectator (HERE). In addition, photos taken at the Business Round Table can be found HERE. Finally, FCC Executive Director Arend Kersten was a guest on the Bill Kelly Show on 900 CHML to share the concerns of the business community. Arend's message was clear, consistent and unambiguous – the 32 percent increase in less than 18 months is simply "too much, too soon."  To listen to the CHML audio click HERE, choose August 30, 2017, then 11am and scroll to minute 34.
An independent analysis of Bill 148 commissioned by the Keeping Ontario Working (KOW) Coalition (led by the Ontario Chamber of Commerce) can be found HERE you can also find answers to the frequently asked questions regarding Bill 148 HERE.