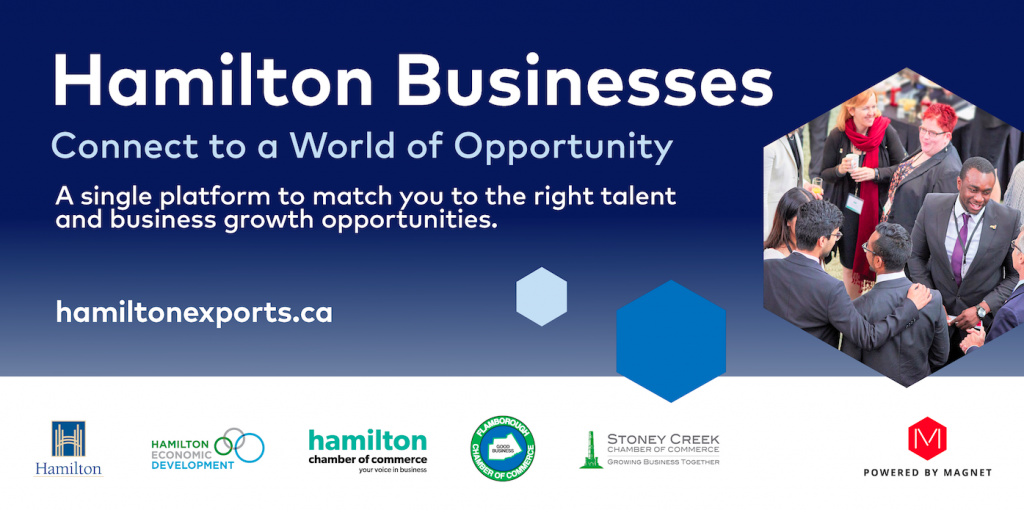 Connect to a world of opportunity: A new partnership makes it simpler for Hamilton businesses to access the right talent and growth opportunities.
The City of Hamilton is proud to partner with the Magnet Export Business Portal to help businesses navigate and identify relevant funding programs, export expertise, events, trade mission and resources. The new Hamilton Exports Portal – a joint initiative with the Hamilton Chamber of Commerce, Stoney Creek Chamber of Commerce and Flamborough Chamber of Commerce – is aimed at advancing business growth in the Hamilton region.
A first-of-its-kind in North America, Magnet harnesses intelligent matching technology and a collaborative network to make it easier for businesses to match to opportunities that matter.
The Hamilton Exports Portal not only helps companies scale globally, it also supports Hamilton businesses in their recruitment efforts, allowing companies to find job candidates with the right skills and qualifications.
Whether your business considers exporting a current or future priority, the Hamilton Exports Portal is for you. In addition to reflecting your industry, sector and location, the information and services you'll receive is tailored to your export-readiness, so there's value here for both experienced or novice exporters.
Hamilton businesses will find it simple, quick and convenient to:
Receive customized updates and information on export-related services, government funding and grants, resources and more
Send targeted job postings to any job seeker within the Magnet network
Learn of newly launched business growth opportunities and trade missions that match your business
Customize your dashboard and get information delivered right to your email inbox
Best of all, it's free for Hamilton businesses to create an account on the Hamilton Exports Portal.
It only takes two minutes to sign up and activate your account today: www.hamiltonexports.ca